Why not "For Sale By Owner" (FSBO)?
We've all seen them. You are driving down the street and you see the little red and white sign posted in the front yard stating " FOR SALE BY OWNER ". In the industry, we affectionately call those a " FSBO ".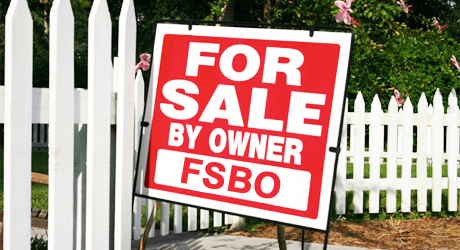 SUCCESS RATES:
We all know that a seller can save a considerable amount of money if they are able to sell their homes without the help of a professional Realtor. It's not as easy as it looks. According to Inman News, 80-90% of FSBOs will eventually list with a Realtor. This is valuable time lost. Even the founder of ForSaleByOwner.com, Colby Sambrotto, had to list his home with a Realtor (and for full commission!) to get it sold. read here
CONSIDERATIONS:
Here are some other things to consider if you are thinking of selling FSBO:
There is little or no incentive for a buyer to want to purchase a For Sale By Owner home.  The seller pays commission and so the buyer is not paying for their representation.  This representation is not only providing them with ALL the local market activity but also protects them against potentially unscrupulous sellers.  The buyer is making one of their biggest financial decisions.  They want a professional to guide and protect them.
You don't have access to the Multiple Listing Service (MLS).  Virtually ALL the major search engines are tied to the MLS and your FSBO won't show up on the radar.  Most people search by googling "homes in _____ city" and the FSBOs aren't going to pop up.  Unless a buyer is looking for a FSBO specifically (and why should they?), your home will be getting little exposure on the web. This is where the vast majority of people are looking.
Agents won't show FSBOs.  This limits your FSBO prospects to unrepresented and potentially unqualified buyers.  You, yourself, will have to determine their qualifications.  Our California Association of Realtor's contract forms have protections for you if a buyer cannot perform or cannot prove their qualifications in a timely  manner.  You will not have access to those.  You'll have to be pretty savvy to protect yourself adequately.
FSBOs are frightfully fraught with liability.  California requires extensive disclosures and if you overlook even one of them, you open yourself up to a potential lawsuit.
Most importantly, you need to think about safety.  You are going to have to be present and open your home to literally anyone off the street.  When a buyer comes through your home with an agent, they are presumably there for what they say, to buy a home.  The agent would not be wasting their time with them otherwise.  Someone off the street may just be scoping the joint out for a robbery, especially if they are able to get personal information from you like your working hours.
According to Bernice Ross of Inman News, FSBOs end up selling an average of 20% less than those who use a Realtor.  You think you will end up with more money in the end but there is just not the evidence to support that statistically.
SUMMARY:
In summary, many people don't really understand the work that a Realtor does and therefore they feel they are overpaying for the job.  When they decide to go "For Sale by Owner" they don't realize that there is a lot of physical work, negotiating, and expertise that goes on throughout the entire transaction.  A complete Real Estate file contains about 60 documents.  Each of those documents represents an entity, be it a report, inspection, instruction, repair, or disclosure.  Each document may have 3 other people attached to it.  This translates in that it has to be ordered, negotiated, approved and paid for.  This is the expertise you are paying for.  If done well, this will save you money and headache in the end.